Posted on 8 January 2021 | No responses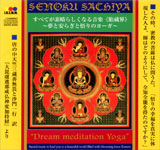 Dream meditation Yoga
Sachiya Senoku
1. daisin no makakaei

2. chisinkyouhatu no ongaku

3. kongoukaji no ongaku

4. kousanzebyoukanchou no ongaku

5. yume no meisou

Posted on 7 January 2021 | No responses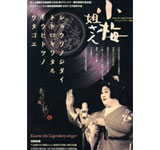 Koume the Legendary singer
Koume Akasaka 100 birth anniversary film
In Japan, there was a legendary singer like them. Her name is Koume Akasaka.She has dedicated her life to singing Japanese folk song. This DVD is a documentary film of her singing life. This is it!
1. Koume the Legendary singer

2. Special Features)Theatrical trailer&Special trailer

3. Special Features)[Koume lived in Kokura]

Posted on 6 January 2021 | No responses
1. Opera Mr.N from the Splendor's revenge, Third Act, Beautiful Vengeance Aria – Cyber revenge of a m..

2. FOLLOW ME FOLLOW YOU

3. Holy Mary

4. Sakura Sakura Sakura

5. Water Mother

Posted on 5 January 2021 | No responses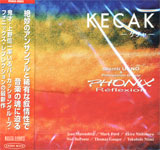 KECAK
Shiniti UENO & PHONIX Reflexion
This CD features six works for percussion ensemble, performed by the percussion group Phonix Reflexion, led by Japanese percussionist Shinti Ueno.
1. Optical Wave for Six Percussionists by Isao Matsushita

2. After-Stuba! by Mark Ford

3. Kecak for Six Percussionists by Akira Nishimura

4. Celebration and Chorale by Nile DePonte

5. Gainsborough #1 by Thomas Gauger

6. Gainsborough #2 by Thomas Gauger

7. Gainsborough #3 by Thomas Gauger

8. Heterorhythmix by Tokuhide Niimi

Posted on 4 January 2021 | No responses
The work which riped in the live activity for the past one year is covered. In order to clarify each sound more,no mellotron. and 12st guitar is also made into the minimum. 51 minutes sharpened well aiming at the lively rock sound.
1. the parade of hoshikui

2. somewhere and nowhere

3. a darkside house

4. the boat Lilica draw

5. paperplane

6. Real Guard Gondola On Last Of The World

7. a man who raises a weed

8. a medical-bin and awakening

9. pinhole camera

Posted on 3 January 2021 | No responses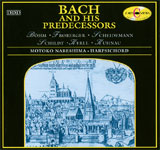 Bach and His Predecessors
Motoko Nabeshima
1. SUITE IN D MAJOR

2. SUITE IN G MINOR

3. Galliarda ex D

4. Paduana Lachrymae/nach J. Dowland

5. Toccata in F

6. Passacaglia in d

7. Biblische Son No.4 in c

8. Praludium, Fuge, & Allegro in E flat, BWV 998

Posted on 2 January 2021 | No responses
Rough Brunch is acoustic band in Japan. Balkan folk ,Klezmer,and original music inspired particularly by Eastern European folk music. Female vocal sung in Japanese lyrics with Nyckelharpa,Accordion,Cumbus,Bouzouki,Fiddle,Cello,Bass,Darubuka.
1. loss dog

2. honey of the love

3. ninjya

4. hose

5. spicy grass

6. Meseno Horo

7. Mariovsuka Tresenica

8. polska-B

9. A problem of a wing

10. zoo

11. Hava Nagila

Posted on 7 December 2020 | No responses
The 1st album of TaroIshida. Japanese Techno , Afro beat , Ethnic Music , Classical , Jazz , Abant-garde , Electronica . . . mixture of music , all over the world.
1. Grand Finale

2. PUNKA

3. Lacrimae Pavan

4. AIR

5. Bricoleur

6. Locomotion

7. Time For Space For Time

8. Psyche-Buson

9. KAIDAN

10. Lulla! By!

Posted on 6 December 2020 | No responses
1. Power of the magic

2. The drop which grants a dream

3. Power to believe, the essence of the smile

4. Fireworks II

5. A bottom of the same sky

6. A reserved seat

Posted on 5 December 2020 | No responses
1. i

2. EARTH

3. ro

4. MOON

5. Stardust Train

6. ha

Music Term

Categories

Recent Posts

Archives

Recent Comments(Reviews)