Posted on 7 August 2016 | No responses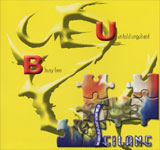 busy bee・untold ungoliant
SEILANE
1. busy bee


2. untold ungoliant

Posted on 6 August 2016 | No responses
1. MOMIJIGARI

2. HIGANSUGIMADE

3. RYOUKIRANMAN

Posted on 5 August 2016 | No responses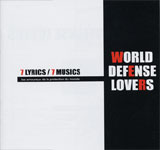 7 LRYICS / 7 MUSICS
World Defense Lovers
Classic,Modern,Folk,Progressive, Good traditional music that will assist you in assimilation and growth. A well-polished idea. The masterpiece known as "GOTHIC" defines a new era of rock music. In 2004, prepare to be astonished.
1. PURGE ME FROM INIQUITY

2. HOLLY

3. GOTHIC

4. GUN TO BULLET

5. SEWING MONOCHROME

6. SOMALIA

7. CRUEL

Posted on 4 August 2016 | No responses
Wappa Gappa is the symphonic lock band of a female vocal front. There are many fans also abroad so that they go on a tour to Europe. "Wappa Gappa" is a concept album following "Yamatai" and "A myth", and this work is highly motivated one of Tamami Yamamoto which is a splendid harmony of comfortable voice of her and the technical performance.
1. Souk

2. Kirmes

3. Ranja

4. The goalden apple of the sun

5. To Soldiers

6. Exquisite Blue

7. Escher

8. Etranger

Posted on 3 August 2016 | No responses
Musics and Mystical geometries by EO A special volume consists of mystical geometries of cosmic nature and a set of two CDs.CDs contain intriguing mixtures of tunes resonating with German Techno sounds of 70′s to 80′s and mysterious soundscape colored by rich emotional airs.Including arrangements of pieces from "Tangerine Dream".
1. MILKY WAY HILL

2. DOLLS'PICNIC

3. WINK OF SNOWMAN

4. SIGNATURE ON THE WATER

5. THE FUGITIVE

6. FADING VISION

7. LOGOS PART-1

8. REUNION

9. UNDERGROUND ACTIVITIES

10. RAIN OVER THE CANYON

11. NIGHT BREEZE

12. HANG GLIDER

13. BALL IN THE CEMETERY

14. YANTRA OF DARKNESS

15. BOTTOM OF THE SEA

16. PREDATOR

17. IMPROVISATIONAL DANCE

18. CAT ROAD

19. TOY SPACESHIP

★
1. GEOMETRIC DANCER

2. CAT ROAD

3. PURPLE DAWN

4. THE WIND CLOCK

5. WITCH-HUNTING

6. TIME-RING

7. SIRIUS

8. RAIN ON THE RUINS

9. UNKNOWN FOREST

10. STEP TO THE RAINBOW

11. COSMIC LOCK MEMORY

12. OCEAN WEATHER SHIP

13. THE LONE WOLF

14. FLIGHT IN HAZE

15. ORIGIN OF ORGANISM

16. OVER EXPOSURE

17. DIMENSIONAL SLIDE

18. BOG OF DEMONS=The Earth

19. SPACE-TIME SCOPE

20. DETACHING SPIRIT

21. PSYCHOSIS=Forbidden Peace

Posted on 2 August 2016 | No responses
If you listen to this CD with a headset, you will encounter ear tickling or brain shaking sound. Especially the music of the track 11 that stimulates the ears and the brain, and the track 12 "Brain Storm" will thoroughly and mercilessly inspire listener's consciousness towards the world of "Hen."
1. Crystal

2. Mystery Zone

3. Light Fairy

4. Ward in Battlefield

5. Psychic Wave

6. Ghost Sex

7. Cursed Soul

8. Area51

9. Nine Magic Candles

10. Deserted Zen Temple

11. Out of Body Experience

12. Brain Storm

Posted on 1 August 2016 | No responses
A "multilayered album."It has heavy and deep German Electro style sounds, soft and soothing Irish type tunes, guitar fusion style, Techno, and ambient music. Including arrangements of Tangerine Dream, Peter Bauman, and Mike Oldfield.
1. ALCHEMY

2. BICENTENNIAL PRESENT

3. PIPE TUNE

4. 3AM AT THE BORDER OF THE MARSH FRO

5. CHEMICAL REACTION

6. LIGHT FAIRY(PART.2)

7. GAZELL

8. SETTING OFF

9. BOG OF DEMONS(PART.2)

10. ECLIPSE OF THE SUN

11. A STRANGER

12. SEVEN SPRINGS

13. ISOLATED FOREST

14. (RAIN OVER THE CANION)

Posted on 7 July 2016 | No responses
KANABUN is a music group who composes and plays original songs in Sendai JAPAN. KANABUN's first album "jinbutsuga(Portrait)" has been released in Feb 2004. This album contains six songs,which express various sides of personalities some men have.
1. Runaway

2. Wave Motion

3. Id

4. An Awkward Old Man

5. Serenade

6. God Is Dead

Posted on 6 July 2016 | No responses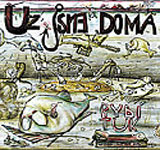 Tara No Hikasibobokumetsudomei
Uz Jsme Doma
This is the latest work of one of the most original Czech rock bands. They performed in the style of their characterful expression like tempi and bursting with energy, and it was large popularity in the Japanese public performance. In fact, their style has certainly upgraded compared with the past recording in a best tone. Furthermore, a violin is featured sharply and coloring is added. With a magnificence 16 page booklet. UJD has scheduld to come to Japan again in autumn of 2004.
1. Pocity plotu

2. Triska

3. Tiha

4. Rybi tuk

5. Mlha

6. Lavina

7. Chvile

8. Tvar

9. Hodiny

10. Rec

11. Proud

Posted on 5 July 2016 | No responses
This is the first collected sound sources of keyboard player Murata Satoshi living in Kyoto. He draws the original world which is the free improvisation by a piano on a cool placing sound. This unique work was inspired by the mystery of peculiar to the land in Kyoto.
1. PART I

2. PART II

3. PART III

4. PART IV

Music Term

Categories

Recent Posts

Archives

Recent Comments(Reviews)