Posted on 7 August 2017 | No responses
1. Nadia

2. Iron Castles

3. Bluebird

4. desert rose

5. Braves on the road

6. shelter

7. Still,life goes on

8. I can see you if in a dream

9. Voice

Posted on 6 August 2017 | No responses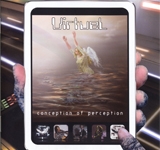 Conception Of Perception
VirtueL
1. The Begining – Intro –

2. Arguing With Shadows

3. All Night

4. Farewell To A Golden Heart

5. Rearranged

6. I'm Back

7. Indecision

8. The River Of Destiny

9. Off They Go

10. My Portal To Heaven

11. Faraway

12. What An Old Man

13. Conception Of Perception

14. Delight – Outro –

Posted on 5 August 2017 | No responses
1. lemon tea

2. Toto

3. Omoi ga Yuki ni Natatoki

4. Game of Love

5. Umarekawatemo

6. Ideal

7. NightParty

8. Koi no Step

9. Ito Koishi Kimini

10. LOVESICK

11. Fairy

12. NewBeginning

13. Littleheart

14. Singing

15. Yasashisa ni Dakarete

Posted on 4 August 2017 | No responses
Melodias and dramatic progressive rock band "Electric Asturias" 2nd album!Electric Asturias joined "GAR2010" "RoSfest2013" "Cruise to the Edge2014". Please enjoy the world of intense emotion!
1. Deadlock Triangle

2. Time Traveler

3. Tangram Paradox

4. Honeycomb Structure

5. SUITE OF ELEMENTAL i Undine

6. SUITE OF ELEMENTAL ii Salamander

7. SUITE OF ELEMENTAL iii Sylphide

8. SUITE OF ELEMENTAL iv Gnome

Posted on 3 August 2017 | No responses
1. NIGHTINGALE

2. untitled

3. PANDEMIC

4. ALIBI

5. LESSON

6. TIME PARADOX

7. BIG FOOT

8. B.C.

9. ONLY TEST, IT' S ALL

Posted on 2 August 2017 | No responses
1. PROROGUE : TAKING THE FIELD

2. PROSPERITY & COLLAPSE

3. HYBRIS

4. DIRTY CHILDREN

5. G+I+S+H

6. THE FIVE SINS

7. BEYOND THE FANTASY

8. WEIRD WIND

9. UWABAMI

10. THE WANING MOON

11. SO…

12. THE ROYAL PALACE MADE OF SAND

13. EPILOGUE : OR THE SKY FULL OF DRAGONS

Posted on 1 August 2017 | No responses
Ten tracks filled with fantasy and worship of beauty characteristics. Here we've got ACCEPT(Japanese Prog Unit)'s 4th album. Basically recorded by tape machine, it all the more gives you an analogous impression, which is emphasized by the use of MEROTRON especially on 10th track. Old and new; a great symphonic sound has just emanated from Japan.
1. PERPETUAL DANCE

2. BRIDGE(WAR SONG)

3. TO THE SELF

4. HOLD ON TO YOUR LOVE

5. FLASHBACK

6. DON'T CRY ANYMORE

7. WHEN THE NIGHT COMES

8. AS TIME GOES BY

9. SNOWFLAKE

10. BEYOND THAT HILL

Posted on 28 July 2017 | No responses
MIDAS [Eternal Voyage] was released.
MIDAS
[Eternal Voyage]
Buy this CD is click here.
Progressive
Rock/Pops
Symphonic
1. Air Brewer


2. A Trip For Five Seasons


3. A View Of Sierra de Cobre


4. Long Lonesome Road


5. Blood On The Sands


6. Time Robber

Posted on 7 July 2017 | No responses
1. Azurite Dance

2. One Screw Short

3. Fuyutoshi

4. Interlude #1(Polaris)

5. Raw Ore

6. Tsumiwara no Uta

7. Rim Light

8. Dunes in Ancient Times

9. Interlude #2(Uranus)

10. Tokiwokoetesoranikaeri

11. Ame no Niwa

12. Berceuse

13. Okaeri

Posted on 6 July 2017 | No responses
1. Tsuchiyu Onsen

2. Midoro-Numa

3. Ruri-Numa

4. Bishamon-Numa

5. Moon Rabit

Music Term

Categories

Recent Posts

Archives

Recent Comments(Reviews)