Posted on 8 November 2019 | No responses
GONZ [MULTI VERSE TRAVELER] was released.
The sound space brought by the combination of the flexibly grooving thick rhythm and freely sparkling tensional keyboards!
GONZ
[MULTI VERSE TRAVELER]
Buy this CD is click here.
Progressive
Rock
HardRock
Fusion
Instrumental
1. TIME SHIFTER(studio Live)


2. COSMIC GYPSY


3. BEHIND THE MOON


4. MULTI VERSE TRAVELER


5. RHYTHMO CRUISE


6. NEW GATE sec.12


7. TRI DIMENSIONAL FORCE(studio Live)

Posted on 7 November 2019 | No responses
1. sakura

2. open plan II

3. planetary orbit

4. chairman

5. hikifune

6. cyclostrophic wind

7. mabuta ha tojirareru, yuuseitachi no sigusa de

8. toki no tenshi

9. bunsuirei

10. windborne

11. kikyu toujyo kai

12. centrifugal force

13. in leaf

14. jinma

Posted on 6 November 2019 | No responses
1. INTERVIEW

2. SPECIAL FOCUS

3. LIVE REPORT

4. SERIAL ARTICLES

5. RECOMMEND DISCS

Posted on 5 November 2019 | No responses
Chamber acid fork duo by Chihiro S.(LACRYMOSA;vo,saz) and Shigemi Hosoda (vo,ac-g). In this album, they challenge Japanese Child songs. Vln, bass, and perc are used by the tune. Shigemi's Hosoda "End of this world" is in symphonic.
1. Sings Of Autumn

2. Dragonfry's Spectacles

3. Red Dragonfry

4. TROJKA

5. The End of This World

Posted on 4 November 2019 | No responses
Mystery man who manipulates Hoomey and Tibet sutra freely! Vairocana is another name project of Norio Nakagawa who is the unusual talent of the contemporary music field. Psytrance, ambient, world, and minimal ・・・Work of addict coveting.
1. AAARRRrra

2. Mescal World

3. Love Potion No.19

4. Ua God is Dead

5. Sky Fish

6. Death Mask

7. Thanatos

8. Unfit Earth

9. Quintessence (Flute;Dogen Kinowaki)

10. Vairöcanation

Posted on 3 November 2019 | No responses
1. A Walk

2. Orangeland

3. Eye of the Needle

4. Tan Naa Ne

5. Kalimba

6. Sitting on the buffalo

7. Small cloud I

8. Small cloud II

9. There is a time

10. Levitation

11. Water Country

Posted on 2 November 2019 | No responses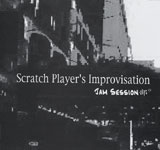 Scratch Player's Improvisation
JAM SESSION CLUP
The first released album by an association for jam session in working people, called 'Jam Session Clup' letting you feel joys and bittersweets for free communication through improvisation by a variaty of players with each style.
1. Flee Blues

2. Wedding Road

3. A

4. Snow Scene

5. toritome no nai koe

6. Flee Blues

7. Lovin' You

Posted on 1 November 2019 | No responses
1. The One

2. Unknown Too

3. Undertow

4. On The Spot

5. Kronos

6. So Far Away

7. Full/Coming Home

8. Talk To Me

9. Into The Sun

Posted on 7 October 2019 | No responses
He made many chorus works which yearned for the Manhattan transfer. This is the second album of Metamorphosis-One which is one-person band.
1. Stage

2. Lonely night

3. Last rendezvous

4. Regret

5. haru no yuigon

6. Ave Maria

7. Syncopation

8. Treasure

9. samayou tamashi

10. Star Vega

Posted on 6 October 2019 | No responses
This is the work in 2001 of the trad system singer who is also a stage actress. The feature of the work is the melody which is sadly full of sadness. The melody which flows the full of the emotions at the center of the ethnic musical instrument of tumbler (stringed instrument of the guitar style), Bouzouki (Greece musical instrument) and the guitar etc. This is the masterpiece of Bulgarian trad.
1. urayamasikunai

2. ryuruko Moya

3. karafuru na Tesagebukuro

4. otoko no Kanasimi

5. kodomo no koro no ano kane

6. inje

7. kinpatu no musume

8. makedonian furamenko

9. rira to pirin

10. titioya no ie

11. konche haramiya

12. hahaoya kara watasi he

Music Term

Categories

Recent Posts

Archives

Recent Comments(Reviews)