VALETUDO [Vale Tudo Live at Airegin #2] Sale at MusicTerm◆
Posted on 07 September 2015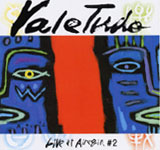 Vale Tudo Live at Airegin #2
VALETUDO
Although this is the jazz-rock which is played by the piano-trio, Kazuaki Kondo who is the keyboard player loves Progressive Rock, such as PFM and EL&P, so this performance has used plenty of strange rhythm, which was refracted extremely. The technical level of each one are not only high but also the style of the New York group of AVAN jazz-rock. The live version of the 2002 recording.
1. Triangle Hold

2. tobitasinchi no yolu

3. zasikiwarasi 3

4. zasikiwarasi 1

5. rasenjhoniegakaretahimawariwomitumeruroujinnokioku

6. Evil Reaction

7. C.A.E. hosi no kanatahe

8. J.C.C.

9. hanchinton・boogie

Music Term

Categories

Recent Posts

Archives

Recent Comments(Reviews)